MONTE ET BAISSE TANKER TOP LOADING SYSTEM
For the top loading of multi-compartment tankers
A gangway that can be adjusted to fit almost every tanker or ISO container
This significantly reduces the risk of falls: a clearly marked-out area for working at height that fits very close to the tanker
Strengths and specificities
The gangway's safety cage fits closely to the tanker, marking out a very safe tanker top working perimeter: it goes up, down, tilts and moves out until the work area is as safe as possible

A completely autonomous structure with an integrated staircase and platform

Available in a single and dual configuration with up to 4 loading arms or variable-reach top unloading arms
Conditions of use
Our Monte et Baisse gangways can be used with multiple configurations. Let's define together the tanker top Monte et Baisse gangway most suited to your installation.
MAIN FEATURES AND OPTIONS OF THE GANGWAY
Front side of the hot-dip galvanised steel gangway - painted finish on request
Temporary aluminium safety cage as standard - painted or stainless steel finish on request
The length of the safety cage can be adjusted according to your needs - from 4 to 12 metres
Width of the safety cage adjustable according to your needs from 1400 mm to 2000 mm - 2000 mm as standard
Raising and lowering the temporary safety cage of the gangway
Incline of the temporary safety cage
The position of the fall protection system is adjusted using pneumatic actuators
3 or 4-step gangway stairs as requested
The length of the steps can be adjusted according to your installation from 800 mm, as standard, up to 4000 mm
Fall protection system available in a freestanding or hanging version, or integrated into the customer process
Remotely controlled retractable sliding barriers
Add a staircase, post, platform or even several variable-reach top loading arms: you get a Monte et Baisse® access system or Monte et Baisse® loading system (single or double)
Will the Monte et Baisse® fall protection system be used for loading and unloading liquid or gaseous fluids? Do you already have a loading or unloading arm installed on your site? Bear in mind that any existing loading arms may not be compatible with the safe access gangway to be installed. Pacquet develops and designs all-inclusive loading systems with arms and tanker top access gangways. Contact us.
ON REQUEST:
3rd axis: in/out movement of the temporary safety cage of up to 400 mm
Integration of false steps, depending on your installation (single or double, positive or negative, false step)
Integration of a removable step
Compressor option integrated in the gangway
Locking in storage position
FEATURES OF THE VARIABLE-REACH TOP LOADING ARMS
Find all the information on the variable-reach top loading arms by clicking here
Specify ATEX zoning if applicable - CE marking for pneumatic, electrical equipment, or equipment used in ATEX zone
MORE THAN 180 TANKER TOP MONTE ET BAISSE® GANGWAYS ARE CURRENTLY IN SERVICE. YOU TOO CAN PREVENT FALLS FROM THE TOP OF TANKERS AND ADOPT THE MONTE ET BAISSE GANGWAY: CONTACT OUR TEAMS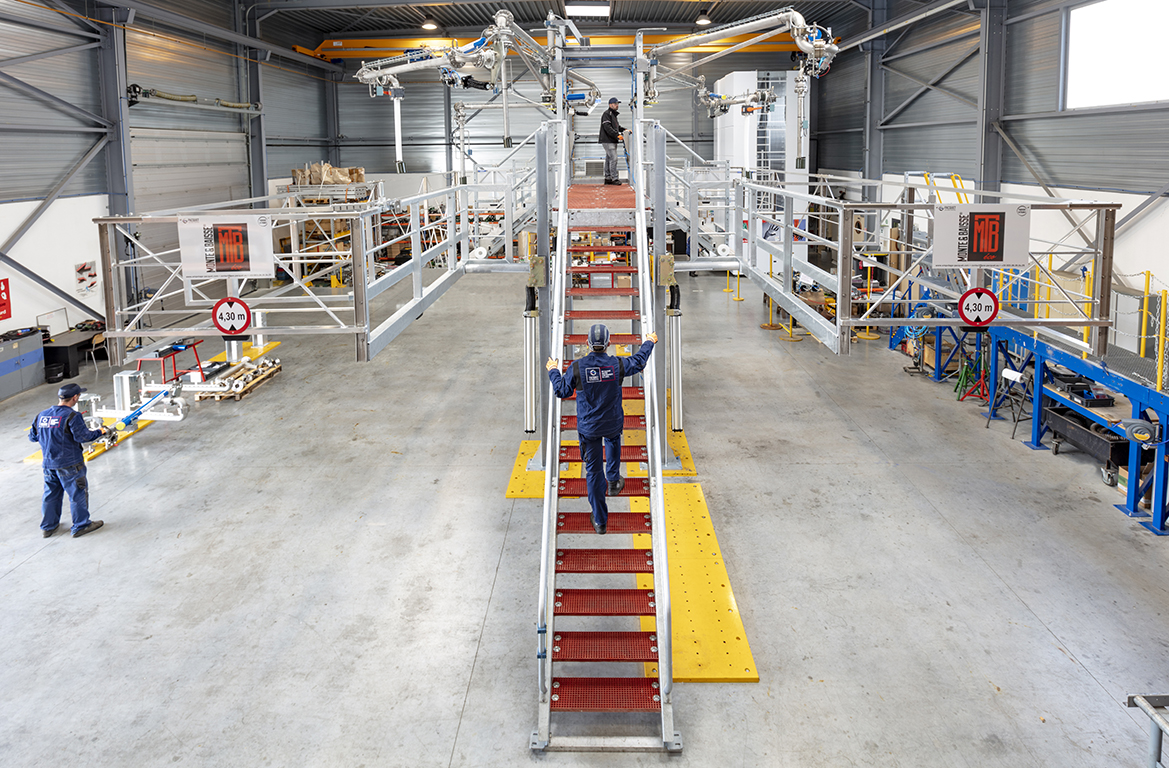 Configuration examples
Monte et Baisse loading system with two telescopic drop pipes
Equipped with Monte et Baisse tanker top access gangway with pneumatic actuation and two telescopic drop pipes
Monte et Baisse fall protection system and loading solution - stairs, platform, gangway and loading arm
Presented here in a single version and with a variable-reach top loading arm
Monte et Baisse fall protection system and loading solution - stairs, platform, gangway and loading arm
Presented here in a single version for chemical applications
Monte et Baisse fall protection system and loading solution - stairs, platform, gangway and loading arm
Presented here in a single version and with a variable-reach top loading arm